Devoting Time to Others, Linda and Mary Share Their Love of Sewing
Community Connections | February 1, 2023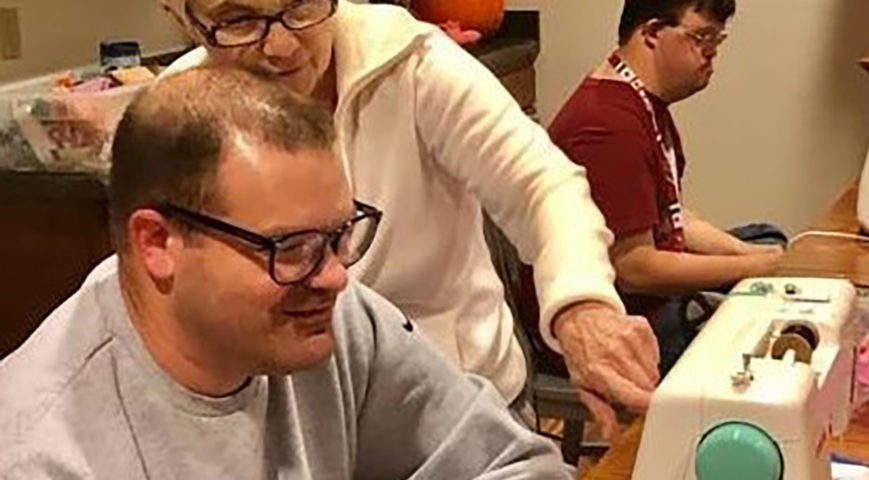 Linda Fouts has been volunteering with Sheltering Tree since the inception of the Bellevue location, that's over 8 years. Linda first came to know about Sheltering Tree through her participation in the Kiwanis Club. Shirley McNally, Sheltering Tree's founder, spoke at a Kiwanis meeting to introduce Sheltering Tree and elicit potential volunteers. One particular plea, was for a sewing club.
Linda's ears perked up sewing has been a part of her life since she was a small child. She grew up watching her mother, in her sewing room, watching the various fabrics and prints come together in what she saw as the "ultimate creation". What a great experience to share with others.
Linda's granddaughter has down syndrome and Linda believed this would also be a great opportunity to learn more about person's with down syndrome, all of its iterations, and help her plan for the future with her granddaughter. She began by herself, but soon learned that having a partner would be incredibly helpful to her and the tenants. Mary Terrin joined her shortly thereafter and has faithfully been coming with Linda every other Wednesday since.
Linda shared what a positive experience this has been and what a joy to watch these men grow their skills. They are independent sewers; they have learned the language and do not need the same direction as previously. Linda and Mary come with projects, and they come to life with tenants. Each project has meaning or is useful. The connection built among Linda, Mary and the tree tenants is tangible.
Linda's dream for her granddaughter was to be living safely and independently at a Sheltering Tree. She will get her wish this summer as her granddaughter moves into the Papillion site. Linda hopes to bring the sewing project to Papillion as well and makes a plea for others to get involved and volunteer their time with Sheltering Tree.